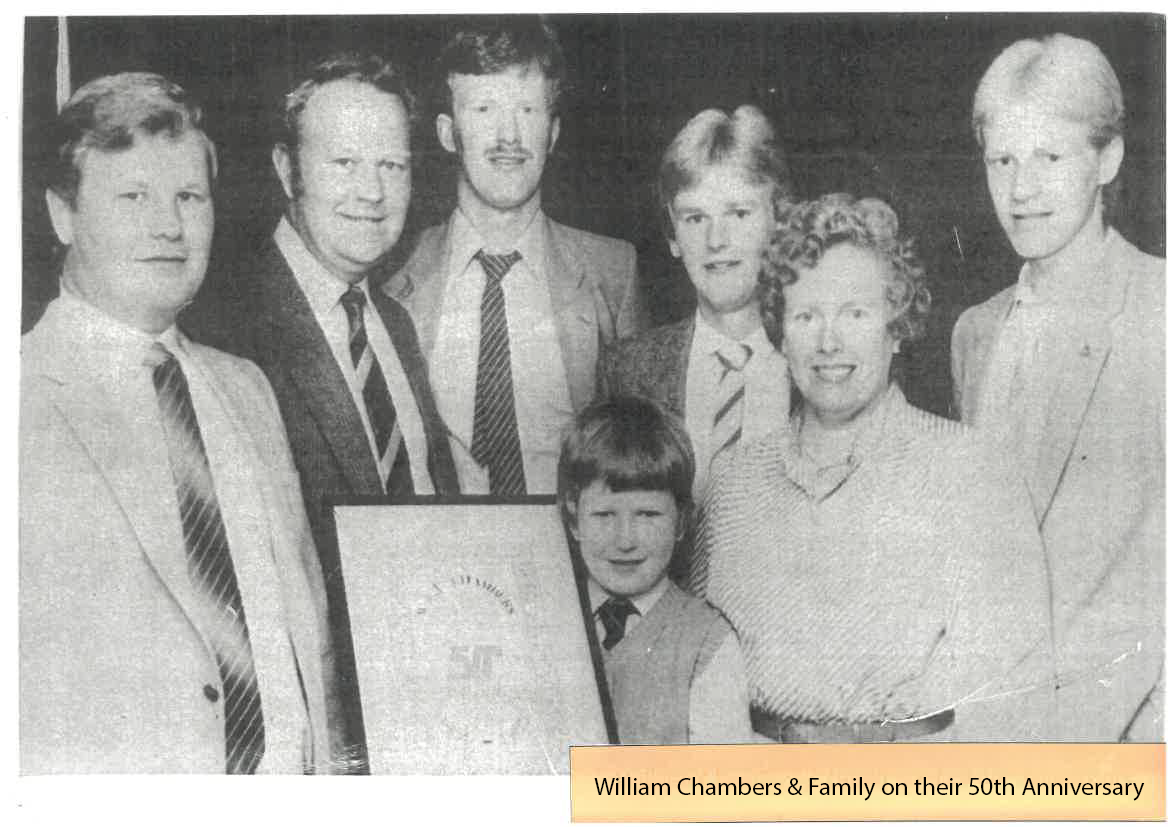 BUILDING ON HERITAGE
W&J Chambers are racing towards a 100-year milestone in business. Building upon nearly a century's worth of knowledge and experience the Chambers family are pioneers in the field of concrete manufacturing.
A NAME YOU CAN TRUST
W&J Chambers invest heavily in their manufacturing process and quality control. W&J Chambers successfully hold certification in Quality Control from recognised bodies enabling them to supply Certified Products to your project.
BUILDING A CONCRETE FUTURE
The hardworking knowledgeable team are the driving force behind the proficiency of such a successful company manufacturing Champion Products. The wealth of experience in the manufacture of concrete and concrete blocks has propelled W&J Chambers as a market leader in the North and North West of Ireland.
CHAMBERS CERTIFIED CHAMPIONS
If you are considering a new project, be Chambers Confident and build your future with Chambers Certified Concrete Products.
1935
A young Mr John Chambers seen an opening in the market for a block business based in Sandbank, Ballyarnet. Blocks were made using hand moulds. His sole means of transport was a motorbike and a sidecar
1942
The business relocated to Lisdillon. Facilitating increased manufacture of blocks and expansion into aggregates including sand and gravel. Operating as J Chambers Concrete Products, Sand & Gravel
1947
Obtained one of the first sand and gravel washing plants in the country
1955
Johns' son Will left school at the age of 15 and joined his father in making blocks. W&J Chambers was born
1958
The established firm relocated to a new site in Drumahoe, which remains the busy hub of the company today
1961
Will took over the running of the company at the age of 21, supported by his wife Rita
1970
Purchased sand pits in Donemana and Burndennet
1980
The business was joined by Will's five sons; John, David, Gordon, Will and Alan
1985
Celebrated 50 years in business
1990
Expanded into ready mix concrete production
1994
Purchased limestone quarry at Lisbunny
2004
Purchased animal feed warehouse in Drumahoe
2004
BSI Kitemark Certification awarded. Audited annually to this standard
2005
The 4th generation joined the established business
2005
Exhausted quarries ecosystem restoration commenced
2007
New depot purchased in Macosquin, Coleraine. The concrete and block plant serves the North and Northeast coast in Northern Ireland.
2010
Celebrated 75 years in business
2018
Expansion of Farm & Equestrian store initiated
2018
W&J Chambers acquired ownership of Kilhoyle Quarry, Limavady securing the highest-grade basalt aggregate supply
2019
Purchased new McGirr block machine dedicated to long-standing employee Dan McGlinchey who had been with the company for over 60 years
2019
A team responsible for quality control formed. Preparations for attaining NSAI certification began
2020
Foreseeing increased sales of certified blocks in 2021 a second new block machine was purchased to meet this demand
2020
Celebrated 85 years in business
2020
Awarded NSAI EN773-1 Certification
2020
State of the art million-pound investment in a new concrete batching plant in Drumahoe depot
2020
Biodiversity plan activated. Greater focus on 'going green,' off setting our footprint, and environmental management
2021
Expansion of exhausted quarries restoration into Biodiversity Centres of Natural Excellence and Education
2021
Re-brand of W&J Chambers Initiated
2021
Awarded annual NSAI Quality Certification (EN771-3) in factory production control certifying quality control in manufacturing of concrete blocks
2022
Joined forces with Queens University in the research of carbon neutral concrete
2022
Submitted planning application for new purpose built Farm & Equestrian Store
2022
Submitted planning application for new Veterinary Practice on the Farm & Equestrian site
2022
Awarded annual NSAI Quality Certification
2022
Founding Partner of W&J Chambers, Will Chambers passed away, 67 years building W&J Chambers
2023
Rejuvenated Ballyheather Quarry into an area of natural beauty and wildlife sanctuary. In partnership with Andrew Diver, a new Carp Fishery launched at Ballyheather, a first in Northern Ireland.
2023
Extensive investment in the Drumahoe Depot to enable increase of manufacturing
2023
1000+ apple trees planted across 6 acres at Lismacarol Orchard in Drumahoe
2023
Newly awarded NSAI Certification (I.S. EN 12620:2002+A1:2008) certifying the quality of extracted aggregate for manufacturing